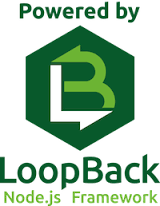 Loopback for NodeJS
Edit on year Jun 19, 2018
Currently favor Koa2 more
What is Loopback
In a nutshell, loopback is a NodeJS framework for building rest API server
Loopback for Full-Stack Web Development
Frontend: Loopback has a first class support using AngularJS 1. It comes with lb-ng tools which auto generate angular service which you might find it handy.
Backend: Build in swagger support, switchable database at model level and easy-to-create script such as database migration.
Advantage Of Loopback
Well Documented, including Android SDK, iOS SDK and Xamarin SDK.
IBM and the StrongLoop team are committed to maintaining and improving the LoopBack open-source project
Disadvantage Of Loopback
No first class support of promise yet - as in discussed in this thread
Postgres datasource is still lack of some feature - might have to write raw query to get the job done.
Rumor is Google is ditching Angular 1. Therefore there could be a hard time to upgrade to Angular 2 for Loopback.
Words of Thought
Recently I have been using Loopback a lot in my web project or as mobile application's backend server. Personally I think it is the best NodeJS framework among those I had tried - expressJS, sailsJS and meteorJs.
If you are choosing a NodeJS framework for your new project, you might as well give it a try!