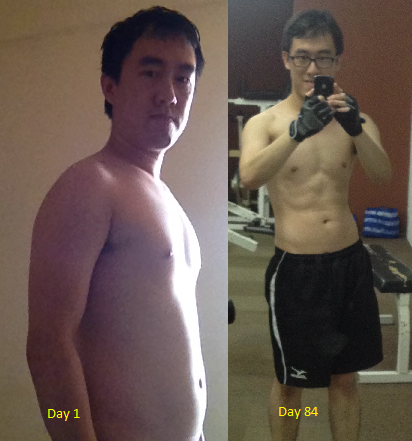 84 days transformation
The Idea
After I have been working in KL for 1.5 years, my weight has gone up 72kg and have a big belly. Therefore I've decide to cut down my weight and get a six packs.
Inspiration
Inspired by the result of Kris Gethin 84 days transformation, I will also try to archive huge process in 84 days.
The result
After 84 days, my weight has gone down from 72kg to 62.3 kg. Also, the six packs is visible down (the lower 2 abs is not so obvious though).
What I have learnt
Discipline, discipline and discipline. I have to control my calories strictly and to attend gym regularly. Even if not feel like to go gym, will have to do chin up or leg raise at home.As long as we continue to do small achievement every single day, we can have big achievement one day.
Program
Meals:

Main meal is rice, chicken breast, vegetable especially broccoli
Sunday can have a bit more calories such as 1/5 watermelon, 0.5kg papaya etc.
Search "calories BMI" in google to know how much calories to take

Exercise:

Focus on lower abs:Chin up bar leg raise, side leg raise, roll wheel
Chin up, bicycle machine, row machine